1. Approach's Outline and Features
This approach combines work to establish a participatory forest management organization alongside an initiative to produce and market agriculture and coffee as a way of incentivizing forest management and managing forests sustainably in areas where natural forest is declining.
As well as establishing a WaBuB (Forest Management Association) for Participatory Forest Management (PFM), the approach aims to build farmers' capacity to analyze production systems, identify problems, test possible solutions and ultimately encourage them to adopt practices best suited to their farming systems.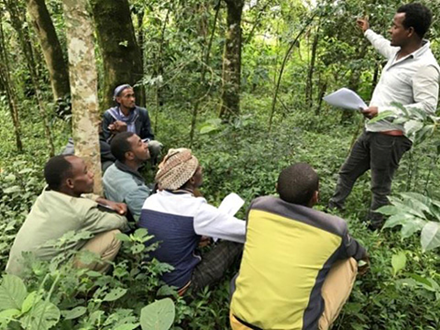 Keywords: Forest management association, Participatory forest management, Forest management agreement, Forest coffee, Farmer Field Schoolz
2. Description of the project from which this approach is derived
2-1. Introduction
Estimates indicate that 5,000-10,000 hectares of forest in the Oromia Region are being lost each year due to agricultural expansion, inappropriate land use and excessive deforestation. Accordingly, the Regional Government requested that the Japanese government implement the first phase of "The participatory forest management project in the Belete-Gera regional forest priority area in the Oromia Region", a technical cooperation project aimed at encouraging local farmers to manage the forest in line with the results of a JICA survey in 1998. The initial project phase was implemented for three years, from October 2003.
To further extend Participatory Forest Management (PFM) to other settlements in the Forest Priority Area, a second phase of the project was implemented for four years from October 2006.
The project's purpose: WaBuB Participatory Forest Management (WaBuB PFM) is developed in selected areas in Belete-Gera RFPA (Regional Forest Priority Area).
Project Periods: Phase 1: Oct. 2003 – Sep. 2006, Phase 2: Oct. 2006 – Mar. 2012
Biome: Highland (forest coffee area / mountainous)
2-2. Details of measures taken
The Project promoted and realized the demarcation of forest boundaries to conserve the natural forest. A provisional forest management agreement (P-FMA) was also concluded between the WaBuB and forest administration bodies such as Oromia Forest and Wildlife Enterprise (OFWE).
The Project strengthened the capacity of the forest administration institution/agencies and WaBuB through training.

Training for forest administration

Training for Trainers (Farmer Field School, project management and participatory forest management etc.), Training in Japan, Third-country training (Kenya, Uganda and Thailand)

Training for WaBuB

Participatory forest management, forest certification, tree and fruit nursery, fodder bank, cultivation of fruit and vegetables, woodlot, tree intercropping,

The Farmer Field School was adopted for the capacity development for the WaBuB.
A benefit-sharing mechanism was introduced in the Belete-Gera forest area.
The Project has utilized and developed a system of traditional local knowledge, particularly in forest protection and utilization for sustainable forest management such as follows:

Felling big trees is taboo within the Oromo community.
Tree bark must be properly utilized while preparing traditional beehives.
Regeneration protection: Regeneration is associated with children among residents (Oromos).
Cultural and administrative gatherings take place under trees, so major trees are considered a source of shade and shelter.
Farm tools made from old and fallen trees.
Awareness that deforestation can cause drought.
Banning any hunting of wildlife unless harmful to the community.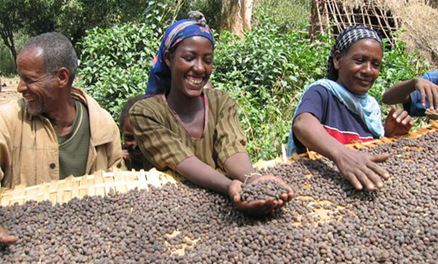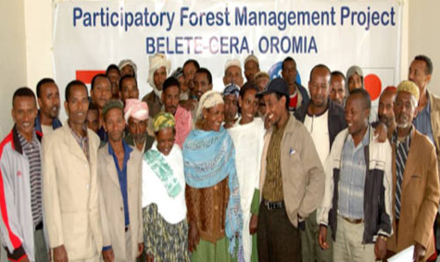 (Perspectives on sustainability)
In the field manual, forest management monitoring and feedback activities are included with numerous pictures and photos.
This project was conducted in collaboration with Zone and District (Jimma Zone, Gera and Shabe Sombo Districts) stakeholders.
3. Analysis of the approach
3-1. Impact
The establishment of 124 WaBuBs and establishment and registration of seven cooperatives.
All cooperatives participating in the forest coffee certification program sell coffees at premium rates.
All target WaBuBs have sustained FMA, even after the termination of the Project.
3-2. Lessons learned
A participatory forest management approach, in which forest users participate at each stage of forest management, such as planning, implementation and monitoring & evaluation, is necessary and effective for sustainable forest management. This is because involving local communities in forest governance helps develop a sense of responsible ownership. In turn, increasing awareness of ownership helps ensure sustainability.
Simultaneously helping conserve the forest and generate income by producing premium-priced forest coffee and implementing the WaBuB Farmer Field School would be an ideal PFM model that would also incentivize participants to join in forest conservation activities. Establishing the FMA allows WaBuB members to harvest forest coffee in the forest areas. That income may also represent an economically solid incentive to participate in the FMA for the local community. Accordingly, under the FMA, it is expected that WaBuB will participate in forest management together with the forest administration body such as OFWE and the natural forests in the area can be monitored and conserved sustainably. FFS served as an extension tool for WaBuB to learn new agriculture or forestry practices requiring long-term interaction.
Developing manuals and guidelines in the local language with photos and drawings paves the way to understand the contents. Moreover, such manuals can also be used as means of monitoring and feedback in PFM activities and would be very effective in promoting and sustaining PFM.
Local knowledge and cultural authority were incorporated into the participatory forest management structure. Such efforts can promote sustainability and coordinate opinions among forest user group members.