1. Approach's Outline and Features
This approach involves accelerating afforestation in arid and semi-arid areas with long-rooted seedlings that would expand the available land areas for tree plantations. Their long roots could enhance the survival rate during the dry season and their drought tolerance is reportedly relatively higher than normal seedlings. Although the long-rooted seedlings technique remains in the experimental phase in Botswana, it is expected to be applicable as a means of enhancing afforestation in similar environmental regions in Africa.
Keywords
Arid/semi-arid, Plantation, Long-rooted seedling
2. Description of the project from which the approach is derived
2-1. Introduction
In Africa, drylands have been severely degraded due to population growth and economic development and it has proved difficult to help land having passed the tipping point to naturally recover to the original ecosystem (IPCC, 2021).
Throughout the nation, Botswana has shown trends of drying up, such as decreased rainfall and rainy days of increasing magnitude (Batisani and Yarnal, 2010). Semi-arid regions in the southwest and northeast are particularly affected by climate change and areas where desertification has intensified.
While natural regeneration has attracted attention, there is increasing awareness of the need for human intervention to restore degraded lands (Palomeque et al., 2017). Long-rooted seedlings (hereafter "LRS") are set in special containers to let their roots extend over 40 cm for enhanced drought tolerance and allow restoration in a dry environment. This pilot project is implemented to help meet the need for reforestation and afforestation in semi-arid areas in Botswana under the JICA project "Project for Capacity Development for the Conservation and Sustainable Use of Forest and Range Resources through the Process of Master Plan Development (2021-2025)". It is the first national government- and international donor-funded project to experiment with LRS to grow on the ground in Botswana.
2-2. Details of the measures taken
Preparation of LRS – Approximately 1000 seedlings are set in special long containers (Multi-Stage Adjustable Rolled Container) with cocopeat and fertilizer. Cocopeat is a common soil medium in Africa, with good drainage.
They are grown for a single season at the nursery until their roots reach over 40cm, while the normal seedlings have just several centimeters, so that they can reach the deep-layer soil where soil moisture is stable after planting. The root length depends on the tree species, environment, or general ease of handling.
Identifying the project site – LRS has a long main root, hence people need to dig a deep hole with an auger. Accordingly, the soil should not be excessively hard so that digging is impossible.
Plant long-rooted seedlings on the ground and monitor their growth. The tree density when planting will be determined through consultation with the counterpart in light of the growth rate, site environment and so on.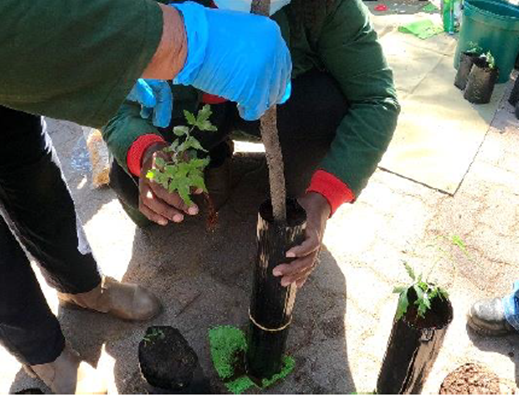 (Perspective of sustainability)
The sustainability of this activity would depend on:
Awareness of potential and available areas for LRS;
A clear exit strategy drawing funds obtained from the private sector;
Accessibility of tree species data in the country or other countries with a similar environment;
An appropriate system for monitoring and accumulating data during the implementation.
3. Analysis of the approach
3-1. Impact
The LRS technique is expected to extend lands for afforestation and reforestation in arid and semi-arid areas in Africa.
Accelerating afforestation and reforestation may generate an additional carbon sequestration volume to help address climate change and contribute to the Nationally Determined Contributions (NDCs) under the Paris Agreement in African countries.
3-2. Lessons learned
4. Relevant information
| | |
| --- | --- |
| NbS Approach Category | 3-2. 13 |
| Title of the project from which the approach is derived | Project for Capacity Development for the Conservation and Sustainable Use of Forest and Range Resources through the Process of Master Plan Development |
| Country | Republic of Botswana |
| Biome | Savanna |
| Implementing term | 2021/2/2 ‐ 2025/1/31 |
| Implementing organizations | Department of Forestry and Range Resources (DFRR) / Ministry of Environment, Natural Resources Conservation and Tourism (MENT) |
| Supporting organizations | Japan International Cooperation Agency (JICA), Japan Forest Technology Association (JAFTA), NIPPON KOEI Co., Ltd. |
| Report/Tool/Guideline | – |
| Contributors to this article | Misaki Matsuo /JAFTA |