1. Approach's Outline and Features
To establish a practical means of introducing participatory forest management, which is also promoted by national policy, this approach involves conducting pilot activities in a degrading forest reserve, developing a forest reserve management plan with local residents taking part and developing, disseminating and establishing a method for implementing forest conservation activities based on the same.
The so-called PAFORM participatory approach described comprises four components: 1) Community participation from the planning stage, 2) Tree-planting activities, 3) Livelihood-improvement activities and 4) Deployment of community facilitators.
The government of the Republic of Ghana has highly evaluated and acknowledged the significance of the PAFORM Approach on enhancing community involvement in participatory forest reserve management.
Keywords
Forest reserve management plan, PAFORM approach, Participatory forest management, Community Facilitator, Livelihood-improvement
2. Description of the project from which the approach is derived
2-1. Introduction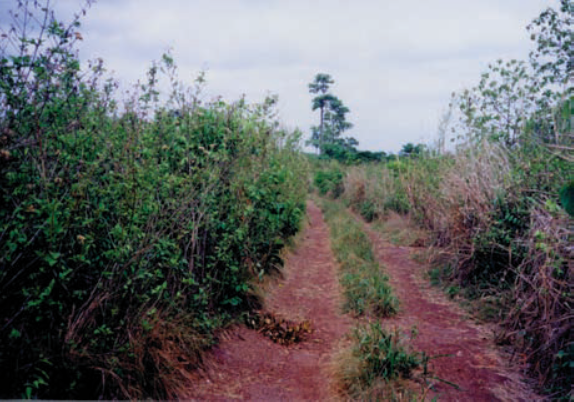 On average, Ghana lost 1.7% (120,000 ha) of its total forest area each year over the period 1990 to 2000. The Government of Ghana outlined the overall policy direction of the forest sector in its Forest and Wildlife Policy 1994, which aims to conserve the nation's forest and wildlife resources and develop them sustainably to maintain environmental quality and ensure an ongoing flow of optimum benefits to all segments of society. In 1999, the Natural Resource Management Plan was formulated as a 10-year plan, followed by the National Afforestation Development Plan, a national afforestation project, in 2001. Although these policies commonly emphasize public participation in forest management, it has proved impossible to find practical operational methods in the field.
Under these circumstances, the Government of Ghana requested that Japan undertake a project to implement sustainable forest management with the participation of local communities. This approach aims to develop the necessary capacity for government officers and community people to cooperate mutually and manage forest reserves by developing the Forest Reserve Management Plan in two pilot areas.
2-2. Details of the measures taken
Developing the Forest Reserve Management Plan

Forest Services Division (FSD) personnel were trained in Japan and through OJT in collaboration with Japanese experts in the areas necessary to organize the Plan, such as facilitation, mapping, GIS and management. Forest management in the Plan includes establishing a production zone (for Teak timber, fuel wood), landscape conservation zone and riparian zone conservation.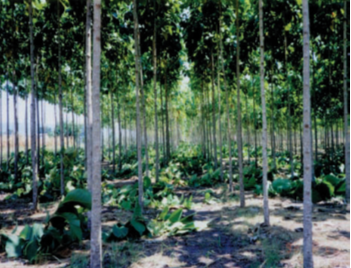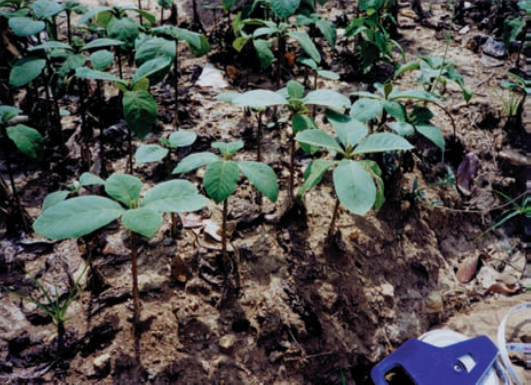 To get more of the local population involved in forest management, forest conservation management activities, namely i) Green Belt (GB*1) activity and ii) Income-Generating Activities (IGA*2) were also incorporated into the Plan.

*1: GB involves allocating a certain amount of land on the periphery of the forest reserve to neighboring communities and allowing residents to plant and grow fruit trees like citrus and mango.
*2: IGA involves residents' activities of visiting and learning from local philanthropists, training at farms and learning commercial networking, assisted by extension staff of the Ministry of Food and Agriculture (MOFA).
Consultation workshops were held in communities in pilot areas to involve the relevant population in the process of formulating the Plan. The workshops helped people understand the Plan and improve their planning capacity.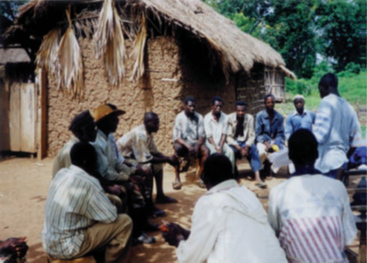 Implementing the Forest Reserve Management Plan

The forest conservation management activities (GB and IGA) stipulated in the Plan were implemented with the participation of local residents.
Under the forest reserve management plan, resident groups planted citrus, mango and other fruit trees as part of GB and as part of IGA, produced maize, soybeans and nuts and engaged in beekeeping, soap-making and other activities to improve their quality of life by selling these products.
Establishing partnerships between FSD and local communities

Community facilitators were selected from capable personnel in the non-government sector and recruited by the Project. They signed a three-year contract with the Project to help bridge the Forest Service and local communities and promote understanding between both parties.
Community facilitators were trained by JICA experts working with forest officers to strengthen their facilitation skills, conflict management and other skills necessary for facilitators.
A planning agreement was signed between the community residents and the FSD.
Proposing a PAFORM Approach to the Government of Ghana

The participatory approach developed and implemented by the Project as shown above was integrated as a PAFORM Approach and proposed to the Government of Ghana.
Workshops were held for government agencies, communities and private companies to promote understanding and dissemination of the PAFORM approach.
(Perspectives on sustainability)
Implementing the PAFORM approach allowed the government staff to acquire the necessary skills to promote participatory forest management together with local residents. The technical support system with the agricultural policy department was also consolidated, which was expected to encourage future self-reliance and development.
A formal memorandum of understanding was concluded between the FSD and residents to ensure their participation in forest management activities.
During the forest conservation management activities, the cooperation of related institutions, such as MOFA extension staff providing guidance to community residents, helped sustain the activities.
3. Analysis of the approach
3-1. Impact
Economically, of a total of 760 community residents, ten invested in self-financed livelihood-enhancement activities and 360 participated in forest management activities. In the target communities implementing the PAFORM approach, high awareness among participating farmers and technology transfer among farmers within the community was observed, hence further expansion of these efforts was expected
Implementing this approach has greatly improved the previously strained relationship between the FSD and community residents and helped foster a collaborative relationship between the two.
3-2. Lessons learned
The project evaluation reported in February 2009 confirmed that the PAFORM approach developed in this project would remain in widespread use as a concrete method for seeking community participation in the preparation of all forest management plans, which has been a challenge for the Ghanaian government.
Participatory forest management requires commitment from participants but does not expect their efforts to go unrewarded. In this approach, government officials receive cooperation from communities in forest management and communities, in turn, receive support from government officials in livelihood-improvement activities. This win-win relationship between the government and the community is what paves the way for the participatory approach.
To develop forest conservation area management plans through the PAFORM approach throughout Ghana, community facilitators must enter local communities and engage them in dialog. However, there is also a need to clarify the necessary procedures for entering communities, as each region has its own traditions and norms that should be fully considered.
4. Relevant information