1. Approach's Outline and Features
This approach is to develop a community-based initiative on reducing GHG emissions in forests by focusing on the agricultural sector as the main deforestation driver in Cameroon. It aims to both conserve the forest and boost local livelihood by renovating agricultural production systems.
Given competing land uses, e.g. agricultural and forestry, renovating the agricultural production system with a view to cultivating without any deforestation may be an effective way to curb deforestation and improve agricultural production.
Keywords
Deforestation driver, Emission-Reduction Activities, No deforestation cultivation, Livelihood
2. Description of the project from which the approach is derived
2-1. Introduction
Cameroon has been working on climate change countermeasures and Emission Reduction Activities (ERA) to cope with an expanded scope of deforestation and forest degradation due to the increase in agricultural land. Reduction efforts made in agricultural and forestry sectors are considered key parts of Cameroon's overall greenhouse gas emission reduction initiative, In this context, the Government of Cameroon requested that Japan undertake a technical cooperation project that would help build the capacity of relevant institutions and promote forest conservation by enhancing the sustainable forest management capacity and implementing state-level sustainable forest management plans. In response, a technical cooperation project focusing on balancing agricultural development and forest conservation was initiated in 2019 for the Central Province, which has a high deforestation rate due to agricultural development. The project will help promote activities to reduce greenhouse gas emissions from the agricultural and forestry sectors by implementing pilot projects.
【Targets for implementation】
The pilot projects were conducted by local villagers' groups in two categories: 'Local group' and 'Community agricultural organization'.
In Cameroon, the basic local group is called GIC (Groupe d'Initiative Commune) and registered to the district office by law. Areas that are wealthier due to agriculture, meanwhile, have a community agricultural organization called SOCO (Cooperative Society), which comprises several local groups in the same area. It is registered to the province and they have rules to facilitate communication with each district office and local government.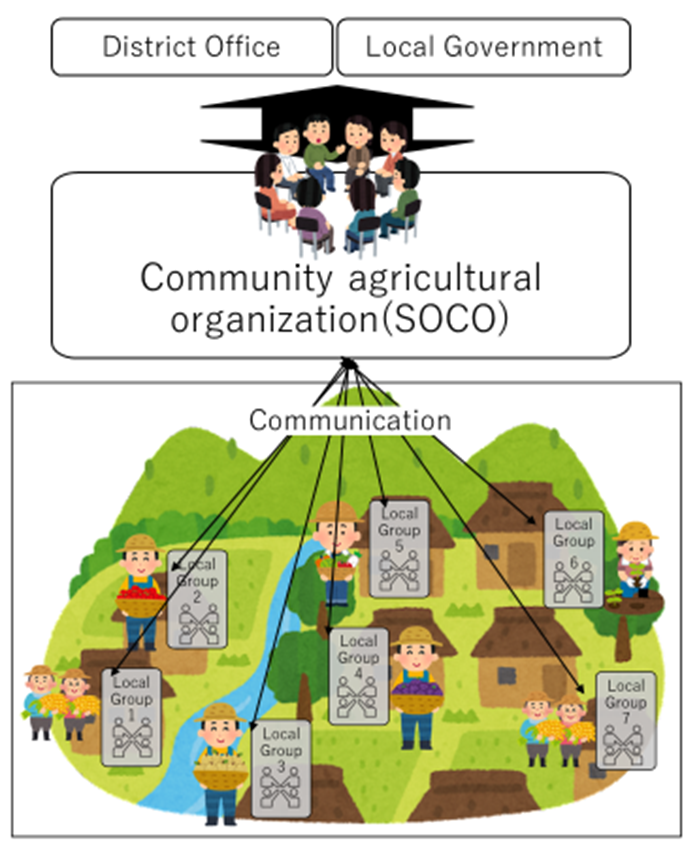 2-2. Details of the measures taken
The Emission Reduction Activities will be accommodated in the state-level GHG emission reduction scenarios (ERS) for the agricultural and forestry sectors.
Local community organizations (SOCO) or local groups (GIC) implement pilot projects which include exemplary Emission Reduction Activities (ERA).
To identify ERAs in line with this approach, the deforestation drivers in the target provinces were surveyed. Based on the results, the ERAs were adopted, provided the feasibility and implementation effectiveness could be assured. The specific implementation measures for each activity are as follows:
Cocoa production without any deforestation cultivation

Intensification of cultivated land by increasing cacao productivity
Enhancing vegetation density by planting and leaving other trees
Growing and selling plantain, cassava and yams which are grown among young cacao as a means of income during the cacao juvenile stage

Afforestation of degraded savanna

of high tree species for carbon fixation and as a useful tree species to help improve the livelihoods of local residents.
Practicing low-carbon agroforestry techniques such as growing trees with cover plants and intercropping with legumes to improve soil fertility.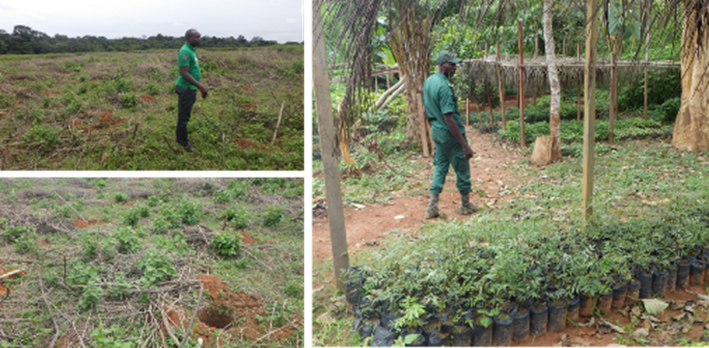 Cassava production targeting deforestation control

Managing farmland according to an appropriate plan in the crop rotation

GHG emission-reduction through biochar-based agriculture

Biochar application in the target area to improve soil moisture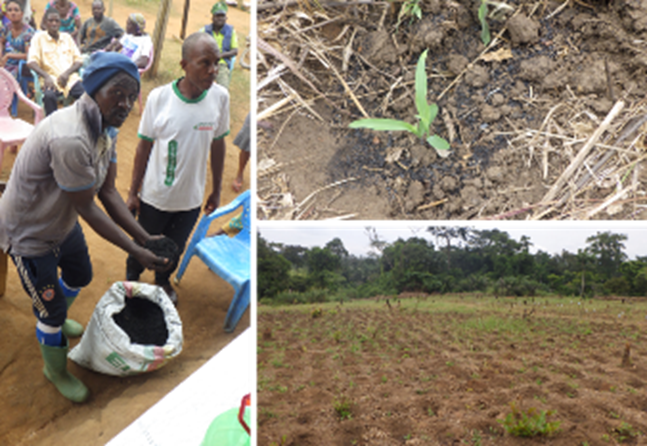 (Perspectives on sustainability)
As residents in local communities see their livelihoods improve thanks to the boost in agricultural production, it is expected that the local organizational structure will be strengthened by improved revenue, thus allowing renovated farming activities to be sustained.
3. Analysis of the approach
3-1. Impact
The output of the interview conducted with the stakeholders shows some positive signs as below:
(Perspective from the Community agricultural organizations)
Using biochar can help save on fertilizer costs, which are rising yearly and improve our livelihoods.
Biochar application shows soil recovery and higher yields are expected.
Agricultural improvement will make no-deforestation cultivation possible.
(Perspective from the community village leaders)
Locals will be able to raise other grants through the project experiences.
Information will be shared more easily with the government than before.
3-2. Lessons learned
When choosing ERA activities, the local agricultural condition will be an indicator, helping indicate the optimal study approach.
It was expected that any pilot project applied in areas of high agricultural activity would be effective. High effectiveness was also observed in biochar application and improving cacao production in particular. In such areas, community agricultural organizations are organized and cooperate with the local government, making it easier to obtain government support.
Conversely, in areas where land suitable for agriculture is scarce and agricultural activities are not very active, tree plantation in degraded lands is considered appropriate. In these areas, the infrastructure was underdeveloped, the ties between individual local groups were weak and support from the local government was lacking. Accordingly, a facilitator was considered necessary to connect the regional administration and local groups.
 Accordingly, to decide on a practical approach in the target area, the current agricultural condition and existing local organization's connection between locals and government should be clarified.
4. Relevant information
NbS Approach Category
3-1. 9
Title of the project from which the approach is derived
Capacity Development Project for Sustainable Forest Eco-System Management in Republic of Cameroon
Country
Republic of Cameroon
Biome
Tropical
Implementing term
2019/1/20 – 2024/1/19
Implementing organizations
Ministry of Environment, Nature Conservation and Sustainable Development (MINEPDED), Ministry of Forest and Wildlife (MINFOF), Ministry of Economics and Land Use Planning (MINEPAT), Ministry of Agriculture and Village Development (MINADER), REDD+ Technical Secretariat
Supporting organizations
Japan International Cooperation Agency (JICA), Japan Forest Technology Association (JAFTA)
Report/Tool/Guideline
 -
Contributors to this article
Hiroshi Sasakawa/JAFTA
Chika Sasahara/JAFTA