1. Approach's Outline and Features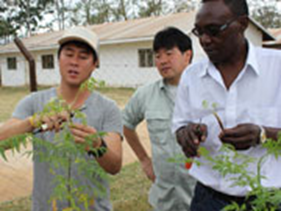 This approach focuses on the breeding of Melia Volkensii, a fast-growing indigenous tree, resistant to drought, on arid and semi-arid land.
The timber produced from Melia Vokensii is hard and high quality. Thanks to tree breeding, the offspring generation of selected plus trees with superior phenotypes for growth, form, wood quality or other desired characteristics, are said to have a 14% higher stem volume compared to the parental generation.
Main tree-breeding processes
Tree-breeding activities include: selecting candidate-plus trees, establishing clonal seed orchards and selecting drought-tolerant tress from candidate-plus trees.
Promotion of improved trees
– Guidelines for seedling production and distribution were developed as part of efforts to establish a quality seed and seedling supply system.
– Commercial forestry was promoted in collaboration with private companies.
Keywords Tree breeding, Clonal orchard, Seed and seedling supply system, Plus tree, Indigenous species, Collaboration with private companies, Arid and semi-arid land
2. Description of the projects forming the basis for this approach
2-1. Introduction
In Kenya, arid and semi-arid lands (ASALs) comprises 80% of the country's land area and only 7% is forested. About 70% of energy consumed in Kenya is generated by fuel wood, placing considerable pressure on forest resources. In response, Kenya's national development program, Vision 2030, aims to achieve a forest/tree cover equivalent to at least 10% of the land area for sustainable resource use.
Melia volkensii is one of the first-choice tree species when planting in ASAL in Kenya because it is fast-growing, drought-resistant and produces high-quality timber. The Kenya Forestry Research Institute (KEFRI) already launched a study on plus tree selection for Melia volkensii, but lacked sufficient experience to evaluate growth and other traits for drought tolerance.
With the situation in mind, "Project to Develop Drought-Tolerant Trees for Adaptation to Climate Change in the Drylands of Kenya" was conducted from 2012 through 2017 to boost the capacity of tree-breeding research and establish a system to increase the number of improved seeds of indigenous species.
After this project, the "Capacity Development Project for Sustainable Forest Management (CADEP or CADEP-SFM)" was also implemented from 2016 to 2021, targeting capacity-building for sustainable forest management in Kenya and one of the main activities was tree breeding.
2-2. Details of measures taken
Tree breeding
Selecting candidate-plus trees of Melia volkensii
Selecting 100 candidate-plus trees
Establishing clonal seed orchards
1) Preparation of root stocks, 2) Scions collection of candidate-plus trees, 3) Grafting propagation for clonal seed orchards, 4) Site preparation of clonal seed orchards and 5) Planting seedlings in the clonal orchard
Evaluation of plus trees of Melia volkensii based on progeny performance
Selecting those candidate-plus trees that are drought-tolerant
Improving clonal seed orchards
Promotion of improved trees of Melia Volkensii
 [Establishing a quality seed and seedling supply system]
Review, analyze and document the current status of seed and seedling production and distribution
Developing a guideline to secure the production and distribution of seeds and seedlings
1) Explain the Japanese system of quality seed and seedling production and distribution as a good example. 2) Draft the guideline based on 1) and finalize it as a "Seed distribution guideline".
 [Promoting commercial forestry by collaborating with private companies]
Holding a workshop for government institutions, private companies and NGOs to discuss possible means of collaboration with private companies and NGOs in tree growing.
Holding a seminar for private companies and NGOs/CBOs to disseminate technology, skills and knowledge on growing and management of Melia volkensii.
Coordinating signing of an MOU between research institutions and private companies.
Providing 300 improved Melia volkensii seedlings to a private company for trial plantation.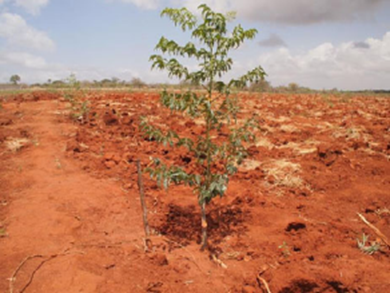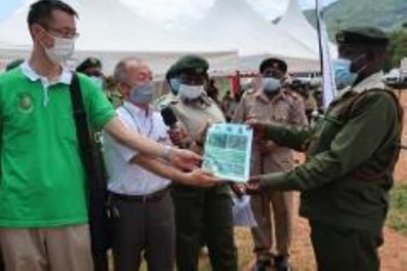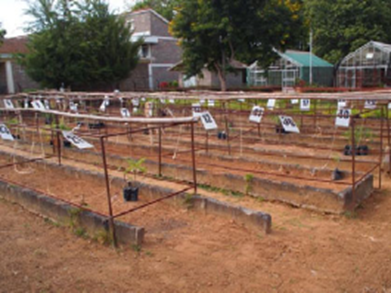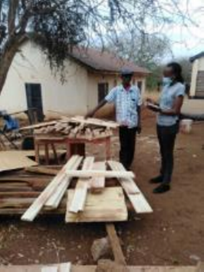 (Perspectives on sustainability)
Focusing on the capacity-building of the counterpart (KEFRI) for tree breeding, so that KEFRI can handle tree breeding independently after the project ends.
Using free and generic tools to analyze data related to tree breeding so that KEFRI can use the tools long term.
Making guidelines like a "Seed distribution guideline" to convey knowledge and experience of tree breeding and distribution of seed/seedlings to stakeholders.
Through a technical tie-up with the Project for Strengthening Forestry Sector Development and Community Resilience to Climate Change through Sustainable Forest Management and Landscape Restoration (SFS-CORECC), a private company is about to launch the production of high-quality seedlings.
Various forestry-related technical books have also been developed and published on the KEFRI website for anyone to access and use.
3. Analysis of the approach
3-1. Impact
Tree breeding
It is estimated that the timber volume of Melia Volkensii increased by 14% after selecting the second generation of plus trees.
Promotion of improved trees of Melia Volkensii
Establishing a quality seed and seedling supply system for indigenous species

The Seed Distribution Guideline was published.
Promoting commercial forestry by collaborating with private companies

KEFRI established a basis for cooperation with private companies to promote improved Melia Volkensii in Kenya.
Boosting awareness of improved Melia Volkensii among private companies.
3-2. Lessons learned
Indigenous tree species such as Melia volkensii are familiar to local people and quality seeds and seedlings of these species developed through tree-breeding activities are easily acceptable. Accordingly, strengthening the supply system of improved seeds and seedlings of indigenous species can promote efforts to restore tree cover.
However, when breeding trees, the trees grow very slowly in a process that is not complete within one short project period. The tree-breeding project plan should be established for over a decade and its progress needs to be regularly monitored.
Since this approach targets wide-ranging components (e.g. tree breeding, seedling production and distribution and promotion of commercial forestry), collaboration with many stakeholders, such as the government, private sector and local people is necessary.
As well as providing seedlings to private companies, ongoing technical support for tree planting is needed to promote commercial forestry, given the importance of monitoring and follow-up after the planting process to encourage the growth of trees. In fact, its efforts have already been initiated by the SFS-CORECC.
Providing information such as a growth curve to explain the benefits of introducing improved tree species compared to non-improved ones to private companies is helpful because private companies can easily understand the advantages.
4. Relevant information
NbS Approach Category
3-4. 18
Title of the project this approach derived from
(1)Development of Drought Tolerant Tree for Adaptation to Climate Change in Drylands of Kenya
(2) Capacity Development Project for Sustainable Forest Management (CADEP or CADEP-SFM)
(3) Project for Strengthening Forestry Sector Development and Community Resilience to Climate Change through Sustainable Forest Management and Landscape Restoration (SFS-CORECC)
Country
Republic of Kenya
Biome
Desert/Semi-desert
Implementing term
(1) 2012/July – 2017/June
(2) 2016/July- 2021/October
(3) 2022/January-2027/January
Implementing organizations
(1)
Kenya Forestry Research Institute (KEFRI) Kenya Forest Service (KFS)
(2)
Ministry of Environment and Forestry (MoEF) Kenya Forestry Research Institute (KEFRI) Kenya Forest Service (KFS) County Governments (Embu and Taita Taveta)
(3)
Ministry of Environment and Forestry (MoEF) Kenya Forestry Research Institute (KEFRI) Kenya Forest Service (KFS)
Supporting organizations
Japan International Cooperation Agency (JICA)
Report/Tool/Guideline
Guidelines for Conservation of Genetic Diversity (2017)
Market Research (Production, Management and Distribution of Seeds and Seedlings) (2014)
Guidelines for the Extension of Superior Seeds and Seedlings (2017)
Guideline on clonal propagation of Melia Volkensii (2021)
Genetic performance and plus tree traits table for Melia Volkensii in the drylands of Kenya (2021)
Manual for establishing and managing Melia Volkensii (2021)
Participatory Forest Management Plan
Seed Distribution Guideline
Contributors of this article
Takamasa Noro, Leo Watanabe/Oriental Consultants Global